5 Day Forecast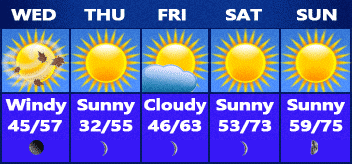 This week's forecast is primarily sunny with a few clouds through the week.
Wednesday will be cloudy in the early morning, but the heavy gusts of wind will be quick
to blow away the clouds for a mostly sunny day and evening. The night sky will remain
clear, and a bit chilly toward the later hours. Remember to grab extra blankets and
take care of your furnace before curfew starts at 5:30pm.
Thursday will open with a clear, but chilly morning. Be careful when making your
way on your morning commute as lower temperatures can cause frost to form with the
morning dew. The day will remain clear through the afternoon and into the evening,
with a high of 55 at about 2:00pm.
On Friday, we'll see clouds moving in toward the early hours of the morning, and
staying through the remainer of the day. We'll see a low of 46 in the early morning
hours and a high of 63 toward the early afternoon, then moving back down to the lower
50's overnight.
That'll open up our Saturday morning with chilly 53, which will gradually warm
up through the day to a sunny 73 for the kids to enjoy their weekend. Dipping down
into the upper 50s or lower 60's over night.
Sunday will bring us a beautiful morning in the low 60's, and climb through the day
into the mid to upper 70s reaching about 75 degrees. It'll be another bright and sunny
day for families to enjoy. Could be the perfect time to visit a local park or take a
nature walk through the woods.